---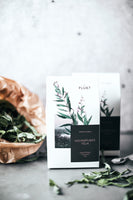 Sale
Organic loose tea contains leaves of Fireweed (latin Chamaenerion angustifolium) Caffeine-free, GMO free. Semi-sour taste, dry aftertaste, energy-boosting, aromatic, immunity improving.
White cardboard package with inner protection packaging, 0.066lbs.
Hand-picked in wild organic meadows and forets of Northern Europe. Instructions: take 1.5 tsp of tea and add nearly boiled water (90°C). Let it brew for 5-7 minutes.