---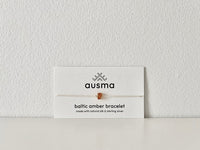 handmade minimalist jewellery inspired by the baltic coastline
inspired by the white sandy beaches and golden hues of daybreak that line the baltic sea coast during sunrise.
known as the gold of the north, baltic amber is believed to cleanse and heal the body, mind, and spirit while bringing fortune and good luck.
>>>|||<<<
handmade with love in canada
features one of a kind unprocessed amber
made from baltic amber, natural silk, sterling silver
adjustable silver clasp on the back
white coloured silk thread
SIZE GUIDE
measure around the thickest part of your hand and use the guide below to choose the best size for you. when in doubt, size up.
S: 7.5–8" (19 to 20.5cm)
M: 8–8.5" (20.5 to 21.5cm)
L: 8.5–9.5" (21.5 to 24cm)
XS tends to work well for kids and petite hands, S and M for women, and L for men.