---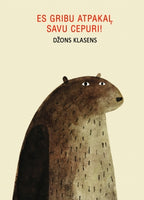 Es gribu atpakaļ savu cepuri!
Lācim pazudusi cepure.
Ja nu neviens to nekad neatradīs?
Un ja nu viņš to vairs nekad neredzēs?...
PAG!
Kaut kur viņš savu cepuri tomēr bija redzējis...

DŽONS KLASENS (1981) ir pasaulē labi zināms bērnu grāmatu autors un ilustrators.
Grāmata "Es gribu atpakaļ savu cepuri!" kļuvusi par New York Times bestselleru, atzīta par 2011. gada labāko ilustrēto grāmatu ASV, 2012. gadā ieguvusi prestižo Elvina Brūksa Vaita balvu un Teodora Geizela (Dr. Seuss) medaļu. Džons Klasens ir kanādietis, bet pašlaik dzīvo Kalifornijā ASV.
No angļu valodas tulkojusi Ita Lapsa.